Travel is one of the most rewarding activities in my opinion.
It can also be rather expensive and potentially overwhelming for newcomers.
A lot of people have questions about how to use money abroad, how to exchange money for the best rates, and how to keep money safe while traveling. This guide will introduce some of the financial tools for travel that you should be aware of.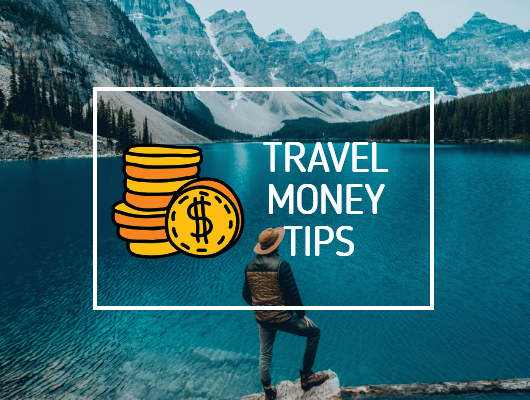 1. Get a Travel Credit Card
You should get a good credit card for traveling. At a minimum, you'll want a card with no foreign transaction fee and minimal Forex fees – otherwise, you may find that your bank adds 1-2%+ to every transaction while abroad. That can add up quick!
You also might consider getting a more premium travel card that offers a signup bonus and ongoing travel rewards.
2. Call Your Bank
You should call your bank(s) to let them know you are leaving the country. Set up a travel alert so that your cards won't get frozen when used abroad.
You should also ask your bank what kind of fees they charge on foreign transactions, as well as foreign ATM withdrawals. If they charge significant fees, you may consider getting a more travel-friendly bank account, such as the Charles Schwab checking account which refunds all ATM fees worldwide.
3. Bring Multiple Credit/Debit Cards
When traveling abroad, you always run the risk of a card getting lost or stolen. Or, a card may get frozen due to a fraud warning, leaving you stranded without access to cash.
Thus, we recommend bringing at least 2 different debit cards, and at least 1 credit card – ideally from different banks. Keep one debit card stashed in your luggage, and one on your person at all times. That way you have a backup if something happens.
4. Get a Money Belt
A travel money belt provides an easy way to stash valuables out of sight, while keeping them on your person. They come in various styles, and are an affordable way to improve your peace of mind and safety while traveling. Travel veterans like Rick Steves frequently recommend the use of travel money belts.
5. Skip the Currency Exchange
Want to know the place to get the best exchange rate for travel money? Chances are, it's at a local ATM in the country you're traveling to! This is one of the most important travel money tips we have to share, and one that's frequently overlooked.
Currency exchange outfits charge large fees to exchange hard currency. But if you simply use a travel-friendly debit card at a local ATM, you'll get pretty close to the official exchange rate. Even if your bank tacks on a 1-2% fee, you'll still save a lot compared to the 5-8%+ a currency exchange company may charge.
Even better, if you use a no-foreign-transaction-fee credit card to make foreign purchases, you'll pay 0% in fees. Not all purchases can be made with a credit card, though, so we also recommend withdrawing some local currency at an ATM.
6. Research Local Exchange Rates
Landing in a new country with a new-to-you currency can be quite confusing. How much does that sandwich really cost? 60,000 Vietnamese Dong may seem like a ton of money – but it's actually less than $3 USD.
Thus, it's a good idea to get a good grasp on the exchange rate before you get off the plane. That way you won't get ripped off or overcharged!
7. Research Local Tipping Etiquette 
Each country has different practices when it comes to tipping – or not tipping. For example, tips are rarely accepted in Japan, and leaving a tip may actually be considered rude! To avoid awkward situations, research the traditions and expectations in each country you plan to visit.
8. Get a Grasp on Local Prices
Before landing in a new country, it's good to be aware of what things should cost. This can be achieved via internet research and reading up-to-date guidebooks. Knowing rough costs will help save you from getting overcharged/ripped off. This is particularly important with taxis and other transport options, which are notorious for overcharging tourists.
Hopefully these travel money tips have left you feeling a bit more prepared for your upcoming journey! If you have any tips and tricks, feel free to share in the comments!